BIAPRO®: Services & Technologies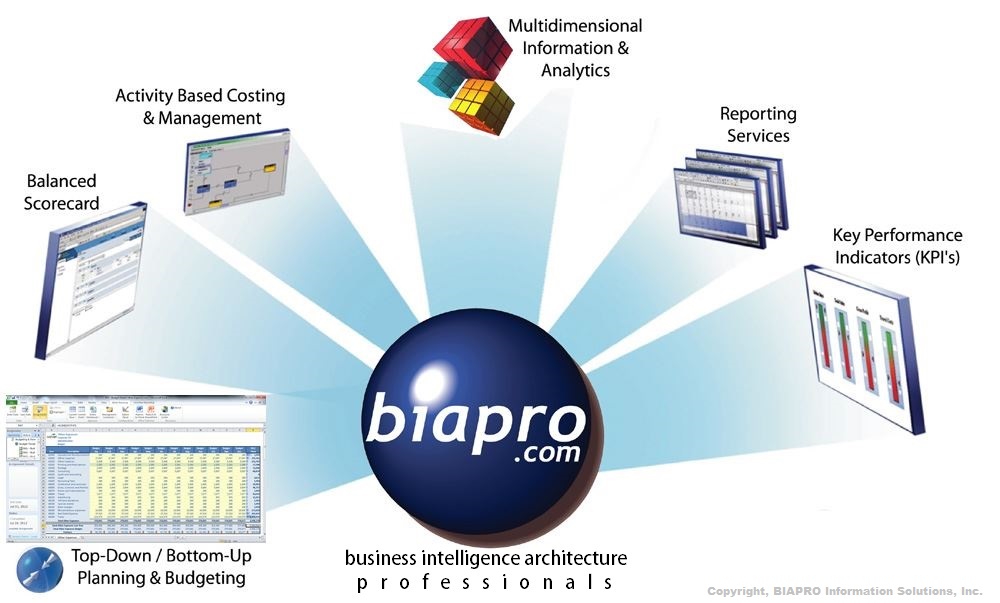 BIAPRO
®
 is your source for cost-effective, best-in-class, customizable Business Intelligence solutions, including:
BI365
®: Business Intelligence.  Everyday.
Design, Build, Implementation, Training and Support of BI, Budgeting and Forecasting solutions fully integrated with your Transactional (ERP/CRM) data systems
Advanced Forecasting and Predictive Analytics with Data Mining & Machine Learning
Data Quality Services & Master Data Services
Fast Close and Data and Process Optimization Projects for your CRM/ERP systems
Business Intelligence Road Maps: Getting key information to key resources
Best Practices in the Preparation and Review of Your Company's Budgeting, Forecasting and Planning Processes
Business Impact Analysis & Zero Based Budgeting: keys to focus resources that strengthen your core business and critical processes while enabling new projects & growth
Full 360 degree Business Intelligence Analytics Diagnostic (BIA)
PIVOT365™, ​OLAP, MOLAP Data Cubes, Reporting Services, SharePoint BI sites
Software Resale and Professional Services for BI360®  from Solver Inc.
​
Out-of-the-box integration for many transactional systems
Transactional Systems for which we can quickly develop Business Intelligence Solutions:
Microsoft Dynamics AX: 4, 2009, 2012, 2012R1, 2012R2
Microsoft Dynamics GP: 9, 10, 2010, 2010R2, 2013
Microsoft Dynamics NAV: v. 4.0, 5.0, 2009, 2013
Microsoft Dynamics SL: v. 6, 6.0SP1, 6.5SP1, 6.5SP2, 6.5SP3, 7, 7.0SP1, 7.0SP2, 2011
Microsoft Dynamics CRM v. 4.0, 2011
Microsoft Dynamics Forecaster: v. 6.7, 7.0 (SP1-SP3)
Microsoft Dynamics Enterprise Reporting v. 7.5
Epicor Activant Prophet 21 v.12.8
Sage 300 - ACCPAC
Sage MAS 500 ERP: v. 7, 7.1, 7.2, 7.3, 7.4, 7.5
Sage ERP X3 v. 7.5 SP3
SAP Business One v. 8.8
Visma Business ERP, Mamut Enterprise ERP, Multicase ERP, Infor SunAccounts & SunBusiness, MOVEX, CODA Financials, and many more
If your ERP/CRM or transactional system is not listed above or is customized, please call us for additional information regarding our extraction and integration services that can build a solid, robust and self-sustaining Business Intelligence Platform that allows automatic updates, data cleansing, alerts, reports, OLAP Pivot Tables, KPI's, and many more features - all with integrated security and advanced information delivery methods to any device, anytime.
All of our solutions are mainly delivered using the latest Microsoft Technologies